We're Ready and Able to Provide Logistics Support.
Many of our freezer storage, blast-freezing, or IQF customers utilize refrigerated tractor-trailers owned or leased by them. However, we can arrange for transportation to or from our Vineland, New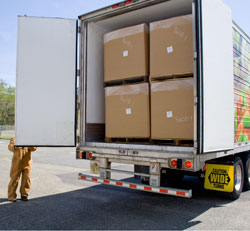 Jersey, plant – scheduling on-highway or rail service that will satisfy your needs most efficiently and cost-effectively. Our strategic location within the Mid-Atlantic gives our customers access to local, regional, national – even international markets.
When the customer's transportation needs can be served by our partner in logistics – Pipco Transportation – we will direct them to that company's transportation manager. If you would like to discuss logistics support, please use our convenient contact form and one of our team will contact you within 24 hours.